Recently I began the first of two baby blankets for my twin nieces (4 months old). The pattern, "Basil", is a baby blanket wonderfully designed by Courtney Kelley of the Pattern Factory.
Basil is square blanket, knit from the center out until each of the four sides equal 113 stitches.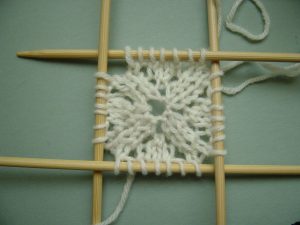 The pattern suggests Dale Baby Ull, washable wool, 3 skeins for the blanket body and 2 for the contrast or border color.
One might question the wisdom of mixing infants and white blankets but Dale Baby Ull is described washable. And, I've been throwing the test swatch in with my regular wash and it seems to be holding up quite well through repeated machine wash and line drying.
The Pattern Factory site also describes this as a good first lace project. For me it's also been a great project to get accustomed to knitting from a chart.
I've been carting it around with me, knitting at bus stops and on the bus, space permitting. So far I've gotten the pattern pretty much memorized and managed not to get too lost or mixed up even with the usual bus changes and other interruptions. In the beginning just-in-case I used a "life-line" in case I had to back off a few rows.
When you run out of room on the double points, switch to circular needle.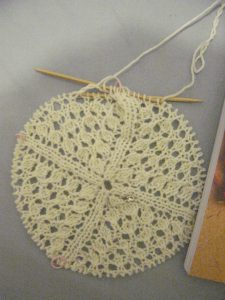 Once you run out of space on the double points the work is placed on a circular – with markers between each section. (The pattern directions describe this in detail.)

This is probably 90% of the blanket, minus the border. So far I'm up to 100 stitches per section for the first blanket.